Two counties called in for mutual aid to put out airport fire, 3,500 vehicles destroyed
05 Apr 2020
A massive brush fire that scorched 15 acres along the Fort Myers airport and burned for nearly 24 hours is finally under control in Florida.
According to WINK News, the Lee County Fire Department had to call for assistance from neighboring Collier and Charlotte county to get the fire under control.
The airport was shut down for hours as plumes of smoke could be seen 20 miles away.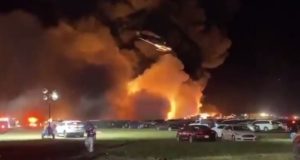 The fire started on Friday and burned into Saturday before firefighters were able to get fully extinguish it.
Roughly 3,500 rental vehicles were destroyed by the flames.
Investigators aren't sure what started the fire but said it was likely fueled by dry conditions and record heat.

© 2020 Bright Mountain Media, Inc. All rights reserved. The content of this webpage may not be reproduced or used in any manner whatsoever without the express written consent of Bright Mountain Media, Inc. which may be contacted at info@brightmountainmedia.com, ticker BMTM.