Maryland firefighter falls through floor responding to fire at RE/MAX office
21 Apr 2020
A Reisterstown volunteer firefighter suffered minor injuries early Saturday morning after falling through the floor of a commercial building in Westminster.
A passerby alerted emergency officials at about 2:16 a.m. to smoke and fire coming from the RE/MAX Advantage Realty building in the 1000 block of Baltimore Boulevard in Westminster, according to a news release from the Office of the State Fire Marshal.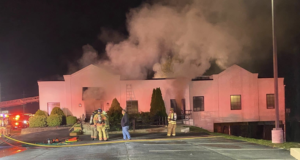 Upon arrival firefighters believed the fire was coming from the basement of the one-story commercial building. The building is reported to be under renovation, according to a statement from the Westminster Volunteer Fire Department.
A 45-year-old volunteer firefighter with 25 years of experience fell through the floor of the building and was taken to Shock Trauma, department officials said in the statement.
The firefighter was released and recovering at home by Saturday evening, according to Kevin Dayhoff, spokesperson for Westminster Volunteer Fire Department. He's expected to recover and return to work soon.
The fire caused an estimated $100,000 in damage and took about 30 minutes to extinguish. The building did not have a sprinkler system or smoke alarms, the release states.
The fire marshal's office is investigating the cause.