Amazon warehouse three-alarm fire brings 50 Fresno firefighters, burns solar panels
15 Apr 2020
A fire on the roof of the massive Amazon warehouse in south Fresno grew to three alarms Tuesday afternoon.
Firefighters took about an hour putting out the fire on the 855,000-square-foot building, Fresno Fire Battalion Chief Tim Fulmer said. There were no injuries.
Smoke from burning solar panels could be seen for miles.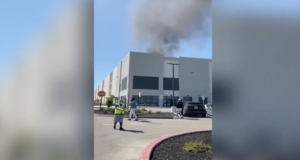 Amazon said early Tuesday evening that it was waiting for an all-clear from the Fresno Fire Department before restarting work. In an email statement, the online retail giant said, "We are currently assessing the damage to the building. Associates have been sent home with pay."
The fire department responded to the fulfillment center on Orange and Central avenues about 3 p.m. Firefighters found 20 solar panels burning, Fulmer said. Eventually, 50 firefighters and several EMS responded.
There was no immediate word about the cause of the fire or the estimated cost of damages.
Fulmer said about 600 employees were at work at the time of the fire.
In an email statement, Amazon said, "The health and safety of our associates is our number one priority and the site was safely evacuated. We are working with emergency responders to assess the damage and will re-open once local authorities determine it's safe to do so. We appreciate the efforts of our local first responders."
Amazon opened its Fresno order-filling warehouse in May 2018.
Company officials told The Bee at a grand opening celebration last year that the warehouse measures 855,000 square feet and has about 2,500 total employees, a couple of thousand robots, and 10 miles of automated conveyor belts.