Miami Dade firefighters battle brush fire at Everglades National Park
23 Apr 2020
By: Staff Writer

On Sunday afternoon, a wildfire began burning south of U.S. 41 and west of Krome Avenue, said Scott Peterich, a wildfire mitigation specialist with the Florida Forest Service. The fire was consuming about 400 acres before it moved into the fringes of Everglades National Park.

"The communities are probably going to smell smoke because of the wind," Peterich said.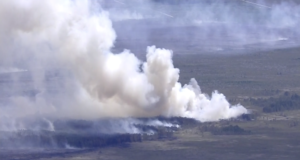 The wind Monday morning was blowing out of the southwest at about 8 mph and, according to the National Weather Service, is expected to become very strong during the day as temperatures soar to near record levels.
Other wildfires were also burning Monday.
Helicopter images broadcast by WSVN-Ch. 7 showed plumes of smoke coming from scrub land south of Kendall Drive and west of Krome Avenue (Southwest 177th Avenue).
People reported smelling smoke Monday as far north as Fort Lauderdale.
The immediate weather conditions will not do much to diminish the smell of smoke or help contain the fires.
Monday's high temperature will be near 93. The record high for Fort Lauderdale on April 20th is 90, which happened in 2006.
In a special weather statement, the weather service said southwest winds will peak at 15 to 25 mph today with gusts nearing 30 mph.
Because of the lack of rain, the region's "Fire Danger Index" is level 4 or "Very High" on a scale of 1 to 5, according to the state forest service.
There could be some slight relief on Tuesday when a 30% chance of showers moves in and the predicted high temperature drops to 88.