Blaze engulfs UAE skyscraper, injuring 12 residents
06 May 2020
Abu Dhabi — At least 12 people were wounded in a massive fire that engulfed a residential tower in the United Arab Emirates, the Interior Ministry said on Wednesday.
The fire erupted at the 48-storey Abbco Tower in the city of Sharjah on Tuesday night. The cause is still unclear.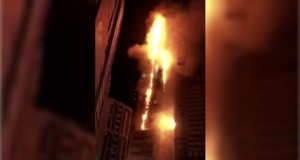 Civil Defence teams brought the blaze under control after two hours, and the high-rise building was evacuated, according to Gulf News.
One side of the building was almost entirely damaged, the report said.