Raging 5,000 acre brush fires force evacuations, close highway in Florida
14 May 2020
Peter Sblendorio
New York Daily News
Far-reaching brush fires wreaked havoc in southwest Florida on Wednesday as homes were evacuated and a portion of a prominent highway was closed.
Officials worked Wednesday to determine how many structures were damaged or lost in the blazes in Collier Country, which grew to larger than 5,000 acres, the Naples Daily News reported.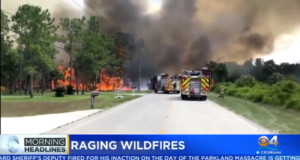 A 20-mile stretch on the portion of Interstate-75 known as Alligator Alley was closed due to the fiery outbreak, while the residents of three streets in the Golden Gate Estates neighborhood in Naples were evacuated, the Collier County Sheriff's Office said.
"We are noticing extreme fire behavior and and an excessively high flame height," Florida Forestry Service mitigation specialist Melinda Avni said, according to the Naples Daily News.
"We are encouraging extreme caution and for folks to stay away from the area, if at all possible."
Officials were not immediately able to determine what sparked the brush fires, though the Florida Forestry Service's index for measuring the threat of fire indicated that, beginning Tuesday, the risk was considered to be high to extreme.
On Thursday morning, the county sheriff and the Greater Naples Fire Control District warned citizens in several different areas about the potential of fire danger, the newspaper reported.
Multiple community areas have opened for people displaced from their homes to go to amid the fires.
In addition to Collier, fires have been reported in the counties of Lee, Hendry and Charlotte, according to the Naples Daily News.