21 injured after an explosion and fire on a naval ship in San Diego
13 Jul 2020
( CNN )

Twenty-one people were injured after an explosion and fire on board a ship at the US Naval Base in San Diego, US Navy officials said.
"Seventeen Sailors and four civilians are being treated for non-life threatening injuries at a local hospital," the US Navy said in a statement.
The sailors on the USS Bonhomme Richard had "minor injuries" from the fire and were taken to a hospital, Lt. Cmdr. Patricia Kreuzberger told CNN earlier Sunday.
The sailors are in stable condition, Rear Adm. Philip Sobeck told journalists Sunday evening.
All of the crew is off the ship and accounted for, according to a tweet from the US Pacific Fleet Naval Surface Forces Sunday afternoon.
Firefighters battled a three-alarm fire on the ship Sunday morning, SDFD's Mónica Muñoz said. Several different agencies worked to fight the blaze.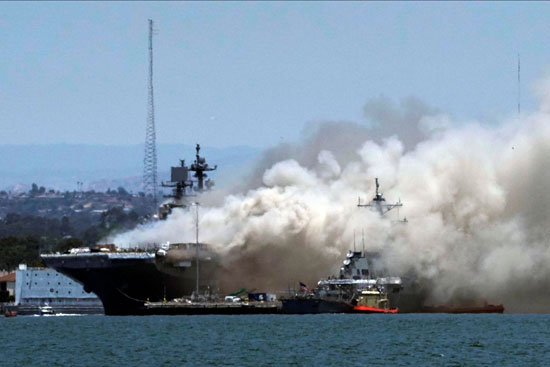 Two fires crews were still on board the ship Sunday afternoon, Federal Fire San Diego Division Chief Rob Bondurant said in a statement.
"Federal Fire is rotating their crews aboard the ship with U.S. Navy firefighting crews from the waterfront to fight the fire in order to find the seat of the fire and extinguish it," Bondurant said. "Navy Region Southwest tugs are also continuously combating the fire from the bay."
As of Sunday evening, firefighters were "at the seat of the fire, if you will," Sobeck said. The firefighters are clearing compartment spaces in order to close in on the fire, Sobeck said.
"Sailors across this waterfront are absolutely doing a magnificent job," Sobeck said, "They are saving their ship. We're seeing just incredible results."
It's unclear what started the fire. When the fire was first reported Sunday morning, it was said to be in the lower vehicle storage area, Sobeck said, a "huge, open area where you store a lot of marine equipment and everything else."
There is no ordnance on board, Sobeck said, "which was our initial concern" in ensuring safety on and around the ship.
A safety zone has been set up around the ship, he said.
It's unclear what caused the explosion, Sobeck said. Initial reports indicated a "sort of a backdraft," or over-pressurization as the compartment started heating up.
The ship had about a million gallons of fuel, but it's "well below" many of the heat sources, Sobeck said.
The ship could burn for days, "down to the water line," San Diego Fire Chief Colin Stowell told CNN's Erica Hill Sunday afternoon.
Sobeck, though, said the ship will probably be salvageable.
"We're absolutely going to make sure it sails again," he said.
"She was in a stage of repair anyway," Sobeck said. "So we're just gonna get right back at it once we get this thing contained and put out."
There was an explosion just as personnel were leaving the ship, Stowell said.