Large wildfire along Highway 395 is burning toward south Kennewick
10 Aug 2020
By: Staff Writer:



Tri-Cities fire crews from 10 fire agencies are battling a large wildfire south of Kennewick near the same area that burned out of control two years ago.
Firefighters were called to the area of East Bateman Road and Bofer Canyon Road about 4:10 p.m. Sunday.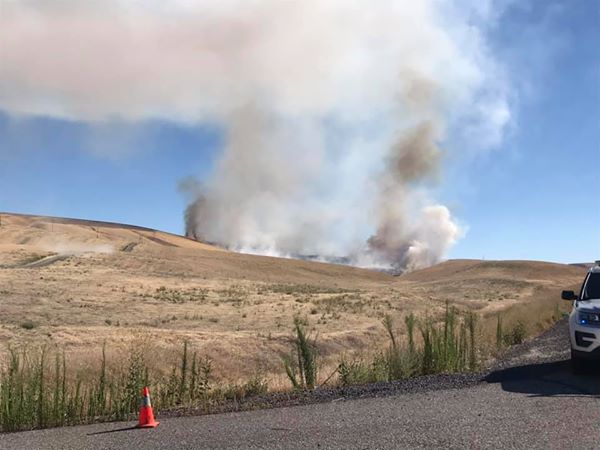 A wildland strike team has been activated to bring in more resources to fight the fire
They are using bulldozers and starting "back burn" fires to slow the advancing wildfire and to keep it from homes and cresting the hill into Kennewick, according to initial reports.

The original call was to an area just south of the Locust Grove Road interchange where Highway 397 meets the interstate.
The fire is sending a plume of smoke high above the Tri-Cities skyline.
Bofer Canyon Road runs north-south, paralleling the interstate that heads to Oregon.
In 2018, the Bofer Canyon Fire destroyed five homes and damaged three others in its destructive path from Highway 395/Interstate 82 over the hillside into Kennewick toward Finley.
The crews involved fighting the fire include Benton County fire districts 1, 2, 4 and 5, West Benton Fire Rescue, Franklin County fire districts 3 and 5 and the Kennewick, Richland and Pasco fire departments.