Washington firefighter loses wife & kids in house fire while he's away battling Palmer Fire
05 Sep 2020
Cameron Probert
Tri-City Herald (Kennewick, Wash.)
Update 9/5/2020

According to

KRME

, Benton City firefighter Raul Garcia-Santos was battling the Palmer Fire in a nearby town when this deadly house fire occurred.
The Palmer Fire has burned for nearly two weeks and is more than 90% contained.
Original:
An overloaded electrical system appears to be at fault in a Benton City fire that killed a mom and her three kids.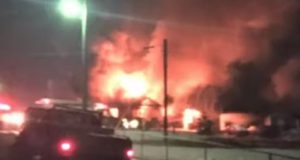 While the fire's exact cause remains undetermined, Benton County Sheriff's Lt. Jon Schwarder said it appears that the electrical system was overloaded.
They also found the home at the Green Acres Mobile Home Park had no working smoke alarms.
The blaze started in the front of the home just before 1 a.m. Aug. 27. Autopsies found Marcaria Martinez-Garcia, 32, and her three kids, Luz, 17, Luis, 15, and Michelle, 6 died from smoke inhalation, said Coroner Bill Leach.
The fire is the second in two years in which local children died in a home with no smoke alarms.
A 10-year-old boy and a 7-year-old girl died in a fire at a Prosser home in July 2019. The blaze was linked to an outside outlet.
The deaths led the Benton County Sheriff's Office and the foundation to team up and deliver more than 500 smoke alarms to mobile and manufactured home parks last year.
Benton City community members can contact fire district 2 officials to get smoke detectors.
Community members have rallied around Marcaria's husband, who was out of state at the time of the fire, raising $23,000 through a GoFundMe campaign toward the burial costs.