Creek Fire live updates.. More Fresno County evacuations lifted.. Kings Canyon National Park reopening
23 Sep 2020
Joshua Tehee,
The Fresno Bee
(TNS)
The Creek Fire, which ignited a little more than two weeks ago, grew by 3,000 acres on Monday.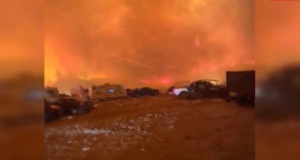 Containment is now at 32% as of Tuesday evening.
The fire has burned 286,519 acres in Fresno and Madera counties, running through areas near Shaver and Huntington lakes. It is now ranked as the sixth biggest wildfires to burn in California since modern records started to be kept in the early 1930s.
Fire officials expect to contain the fire by mid-October.
The cause of the fire remains under investigation, U.S Forest Supervisor Dean Gould said.
Other fires in the area,
The much smaller Bullfrog Fire continues to burn east of Shaver Lake on the fringes on the Dinkey Lakes Wilderness west of Courtright Reservoir. That fire has burned 890 acres and is 20% contained.
Larger still is the SQF Complex Fire, which continues to burn in and near the Sequoia National Forest and grew by some 4,000 acres on Monday. As of Tuesday morning, it has burned 141,600 acres and is 33% contained. Damage teams continue to inspect the area. So far, 150 structures have been destroyed. Full containment is not expected until Oct. 31.
8:15 p.m.: Some warnings dropped in Madera County
Madera County Sheriff's Department Sgt. Joseph Wilder said warnings were dropped in 10 zones, but at least 22 zones still remain under orders.
At least 113 vehicles were removed from Mammoth Pool, Sgt. Wilder said. Deputies located 29 burned vehicles and two vehicles remain there.
5 p.m.: Evacuations warnings lifted in more zones in Fresno County
The Fresno County Sheriff's Office announced late Tuesday afternoon that evacuation warnings for four zones have been lifted.
Those zones are F1A, F1TA, F1TB and F1TC.
The sheriff's office said additional zones will be evaluated to determine if they become eligible for repopulation.
3 p.m.: Kings Canyon National Park reopening
Kings Canyon National Park will reopen to visitors on Wednesday as air quality improves. This includes the park entrance station on Highway 180 into Kings Canyon, Kings Canyon Visitor Center, trails, facilities and parking areas.
Sequoia National Park and Sequoia National Forest remain closed, as does Yosemite National Park.
Air quality is projected to be in the moderate to unhealthy for sensitive groups range over the next few days. The park will continue to assess the smoke impacts, air quality index, and fire activity throughout the region.
Sunset Campground in Grant Grove will reopen on Thursday for reservations only.
Grant Grove concession services including the market, gift shop, restaurant and lodge will open Friday, but could be delayed. Go to www.visitsequoia.com for more information.
9:40 a.m.: Military teams deployed; caution urged driving in western area
In the southern zone of the Creek Fire, near Tollhouse, the fire remains active along the South Fork of the San Joaquin River and on the eastern side, burning towards the Dinkey Lakes Wilderness.
Firefighters continue to enhance containment with improvement of line and completion of a firing operation around Sycamore Creek. In other areas, tactical patrols are mopping up near the existing perimeter and providing structure defense if needed.
Sunny skies are expected Tuesday. While smoke will rise and dissipate, it will not completely clear out of the area.
The northeastern perimeter of the fire is about 12 miles west of Mammoth Lakes. Fire spread has slowed as expected due to some natural barriers and the previous burn scar. Conditions continue to be monitored closely by emergency officials.
Also in the northern zone, military strike teams are being put in place along the fire perimeter, which should help extend containment lines into problematic areas along the western side of the fire.
Increasing the amount of personnel around the fire area also creates more vehicle traffic and residents are being asked take this into consideration and use caution while driving in the area.
8:45 a..m. Yosemite remains closed, but some roads open to through traffic
Yosemite National Park remained closed for recreation on Tuesday, though several roads remained opened for travel through the park. The park was closed last week as air quality in some areas reached hazardous levels.
As of Tuesday, Wawona Road, Tioga Road, El Portal Road and Big Oak Flat Road were open to through traffic. Visitors must remain in their vehicles. Glacier Point Road, Mariposa Grove Road and Hetch Hetchy Road remain closed.
8 a.m.: Air quality returning to unhealthy levels
Air quality is predicted to slip some across the region on Tuesday, falling into very unhealthy levels in the Sierra National Park and forest. In Fresno, the AQI is expected to hit 124 of Tuesday, unhealthy for sensitive groups. As of 7 a.m., it was still in the moderate range, according to the website AirNow.
At that same time, the levels of PM2.5 particulate was hovering below level three, according to the Real-Time Air Advisory Network. Sensitive individuals should exercise indoors or avoid vigorous activities.