Horrifying Glass Fire burns homes, with 68,000 from Santa Rosa to Napa fleeing
29 Sep 2020
Horrifying Glass Fire burns homes, with 68,000 from Santa Rosa to Napa fleeing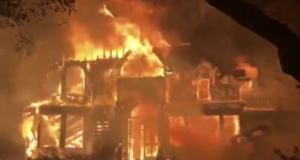 Dustin Gardiner
San Francisco Chronicle
(TNS)
A massive and chaotic wildfire that burned dozens of homes and threatened thousands more across Wine Country flared up on several fronts Monday, roaring across the northern Napa Valley and blazing toward dense residential neighborhoods in eastern Santa Rosa.
Three wildfires that broke out on the east and west sides of St. Helena on Sunday spread quickly through extremely dry grasslands and merged into the single Glass Fire by Monday morning. The fire tripled in size through the day, charring more than 36,000 acres by sunset Monday, and was not at all contained. About 68,000 people were under evacuation orders as of Monday evening and 113 buildings were destroyed.
Several wineries burned as firefighters battled to save homes. Crews also raced to try to save Meadowood Napa Valley where at least one building was in flames at the luxury hotel, which houses the three-Michelin-star Restaurant at Meadowood. A spokesperson for the resort said it appeared that the damaged building belonged to the restaurant.
Fires surrounded St. Helena. The entire town of Calistoga was evacuated around 7 p.m. Monday. In Santa Rosa, fire officials said the formerly named Shady Fire had entered Annadel State Park and they were trying to stop flames from reaching Bennett Valley.
In Butte County, winds whipped up the massive North Complex Fire, which has been burning since Aug. 18, endangering Paradise and several other northern Sierra Nevada foothill communities destroyed by the deadly Camp Fire in 2018. In Shasta County, the 31,000-acre Zogg Fire, which started Sunday, killed three people, state officials said.
Two people were treated for burns — one of them with serious injuries that required transfer to a burn center — in Sonoma County, according to Santa Rosa Memorial Hospital officials. Seven other patients were treated there for respiratory issues, including smoke inhalation. About a dozen people were treated for smoke inhalation and heat exhaustion at Queen of the Valley Medical Center in Napa.
The new and growing fires pushed the total acres burned in California this year to a stunning 3.75 million, according to Cal Fire. That's nearly twice the previous record year of 1.98 million acres burned in 2018, and the 2020 fire season is not over yet.
Statewide, about 70,000 people were under evacuation orders, including the 68,000 in Sonoma and Napa counties and another 1,000 in Shasta County, state and local fire officials said.
Firefighters, already weary from the worst fire season on record in California, dug in again Monday after a night of chaos and terror in the North Bay, where residents are well-versed in the tragic consequences of wildfires. Winds died down Monday evening and firefighters took advantage of the conditions to shore up firebreaks in areas where homes were threatened.
"It's 2017 all over again," said Manny Gomes, 65, of Napa, idling in his pickup truck on Silverado Trail in Napa County as firefighters beat back hot spots in an adjacent vineyard and a Cal Fire helicopter banked overhead. He was trying to get to a small vineyard he owns in the fire zone to check on his animals.
Gomes, whose family had recently moved back into his home in Santa Rosa's Coffey Park after it was destroyed in the 2017 fires, said he thought the wildfire situation was as bad as it could get three years ago, but he was wrong.
"I've never seen anything like this" said Gomes.
The cause of the Glass Fire is under investigation. Authorities believe the Shady Fire that burned into east Santa Rosa was started by wind blowing sparks or embers from the Glass Fire.
Multiple homes burned early Monday in the large Skyhawk neighborhood in eastern Santa Rosa as emergency workers in adjacent neighborhoods went door to door evacuating residents. Emergency workers evacuated a large senior community in Oakmont by bus as flames shot up over nearby hills. Not long after, the fire jumped Highway 12.
Officials do not yet know the exact number of homes destroyed, but Santa Rosa Fire Chief Tony Gossner said there was "significant loss" between Los Alamos Road and Oakmont Drive north of Highway 12.
Sonoma County fire officials said Monday they were most concerned about protecting the areas surrounding Calistoga Road, Oakmont Drive and Annadel State Park in Santa Rosa. The concern was about protecting all these problem areas at the same time, Gossner said.
The evacuations in Santa Rosa extended to Mark West and into Rincon Valley, nearly to the Fountaingrove neighborhood that was devastated by fire three years ago. The blaze threatened Santa Rosa's main evacuation center, which was closed out of an "abundance of caution" as flames pressed in on the city, according to Sonoma County officials.
Annadel State Park was closed and residents south of the park were evacuated almost to Glen Ellen. Areas around Sugarloaf Ridge State Park and along Highway 12 were also evacuated.
"We've seen a lot of destruction in the last three years," said Joe Burroughs, a black bandanna tied over his mouth and nose as he assessed the damage to homes in his Skyhawk neighborhood Monday afternoon.
His house was untouched, but a new neighbor's home on Mountain Hawk Drive was a half-burned wreck. Its previous owners just sold the place and moved down the road, another neighbor said, only to have their new home burn, too. Four other homes on the street were also damaged.
In Napa County, the fire destroyed a historic 120-year-old barn at Tofanelli Vineyards in Calistoga and the signature stone winery at Chateau Boswell in St. Helena. It dusted vineyards with smoke and ash, a nightmare scenario for the wine industry that's in the middle of its critical harvest and crush season.
On Monday night, after the city of Calistoga was evacuated, some residents stayed behind, including Katie Mathison and her girlfriend, who got a Nixle evacuation alert but chose not to follow it.
"We don't feel like it's an immediate threat to the houses until it starts getting to the valley floor," Mathison said.
She's grown used to fires. In 2017, the Tubbs Fire roared nearby. Last year, the Kincade Fire came right up to her house; luckily, it survived. But this time the fire is threatening downtown Calistoga, she said.
Around 10 p.m. Monday, lines of fire snaked along both sides of downtown Calistoga. One line traced the ridge above Silverado Trail North, northeast of town, and another licked at trees on a hill west of Highway 128, to its southwest.
"Our concern is that with any kind of wind direction downslope, it affecting and entering the city of Calistoga proper," said Jaime Orozco, spokesman for the Calistoga Fire Department.
Fortunately, winds were expected to be less fierce than the past two nights, he said.
An already dangerous situation was made worse late Sunday when Sonoma County sheriff's deputies returned to Los Alamos Road to rescue people who refused to evacuate. Sheriff's Sgt. Juan Valencia said residents got a Nixle alert and a knock on the door from police, who also blasted the alert: "It's time to leave!"
Many of the areas under threat were close to or directly affected by the October 2017 Wine Country wildfires that burned entire neighborhoods in and around Santa Rosa. One of those fires, the Tubbs Fire, was the second-most- destructive wildfire in California history.
Brian Borgfeldt, 65, was chased from his Kenwood home three years ago during the Tubbs Fire, which he said burned 21 homes in the area but somehow spared his house. This time, Borgfeldt, his wife and two teenage daughters got the evacuation order around midnight, but waited until about 3 a.m. for a trailer to transport their two horses.
By that time, "it was coming very close," Borgfeldt said Monday morning at the Petaluma Veterans Memorial Building.
A dozen or so evacuees parked cars cluttered with clothes, pets and sleeping pads in a grass lot at the Sonoma-Marin Fairgrounds in Petaluma on Monday.
Andrew Carpenter, 63, said it's either the third or fourth time he has evacuated. "I lost track," he said. "So many fires are popping up."
In Butte County, the North Complex fire picked up Sunday amid dry, powerful winds, prompting an evacuation warning for the entire town of Paradise and the community of Magalia, along with an evacuation order for Concow. All three places were devastated by the November 2018 Camp Fire, the state's deadliest and most destructive wildfire.
The wind and dangerously dry conditions also fed the Zogg Fire in Shasta County, which doubled in size to 31,000 acres on Monday. Climate scientist Daniel Swain said on Twitter that both the North Complex fires and August Complex fires, in Humboldt, Trinity and Mendocino counties, "have exploded once again." The Creek Fire in Fresno and Madera counties also grew over the weekend.
In Sonoma County, fire officials said the brush burning in the Glass Fire was untouched by recent wildfires and burned into previous burn scars. "It did burn very rapidly because it had not burned in a long, long time," said Gossner.
The fires arrived as a dry heat wave brought high temperatures to the Bay Area through Monday. A red flag warning, signaling high fire danger, was in effect for the region until 9 p.m. Monday. A Spare the Air Alert was issued through at least Friday for the Bay Area as smoke from the fires drift south.
Most of the major October 2017 fires that burned around Sonoma and Napa counties were started by Pacific Gas and Electric Co. power lines. The Tubbs Fire was an exception: State investigators said it was started by a property owner's privately maintained electric system.
Hoping to prevent more fires amid dangerous weather, PG&E had intentionally turned off electricity to a very limited area in Napa County and a handful of customers in Sonoma County. Another 14,241 homes and businesses in Santa Rosa lost power, likely because of fire activity, and at least 3,000 customers in Napa County lost power because of the Glass Fire, according to the company.
As temperatures soared into the upper 90s on Monday, Melanie Collins and her husband, Chris Rossow, stood in a large, empty field across from the Sonoma Raceway, where they'd evacuated from their Sonoma County home. The couple have lived in California for only a year, but they've already had to evacuate twice.