A big fire fight .. Risk of Glass Fire threatening to spike as Bay Area braces for heat and wind
02 Oct 2020
Jill Tucker:
San Francisco Chronicle
(TNS)
Thick smoke hampered efforts to slow the spread of the Glass Fire in Napa and Sonoma counties Thursday even as more than 2,500 firefighters braced for strong, dry winds this weekend that could overwhelm the containment lines established so far.
The threat is especially fierce in Napa County, where Calistoga and a number of smaller communities are under evacuation orders. The fire that began Sunday night grew to 58,880 acres as of Thursday evening — consuming an additional 7,500 acres in just 24 hours.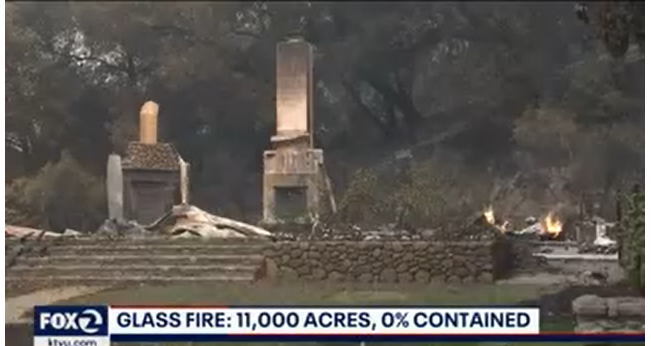 "The fuel conditions are so dry, it's very receptive and the spread of fire is almost imminent," Cal Fire Chief Mark Brunton said Thursday. "It's going to be a big firefight for us for the next 36 hours.
Already, the Glass Fire has destroyed a total of 220 homes in Napa and Sonoma counties, up from 143 on Wednesday. There's also been severe damage to some of Napa's most renowned wineries and resorts. An additional 28,835 structures are threatened, according to Cal Fire's update Thursday evening.
More than 20 major fires continue to burn in California, with nearly 4 million acres incinerated so far, well past the previous record year of 1.54 million acres scorched.
"We are dwarfing that previous record and we have a lot of season yet to go," said Chief Tom Porter, director of Cal Fire. He also warned that the increasingly savage fire seasons in the state pose a long-term danger.
"We need every piece of the system to be raised to meet the challenge that a changing climate is giving us," he said. "Every acre in California can and will burn someday and we need to embrace that and become resilient to it."
Gov. Gavin Newsom, touring fire-ravaged areas in Napa County Thursday, said he is committed to pushing more money from the state budget to firefighting efforts. Despite recent increases, there aren't enough resources to handle all the fires burning at once.
Another obstacle is the fatigue — both among firefighters who have been putting their lives at stake for more than a month and, in the case of the Glass Fire, North Bay residents who already endured large fires in late August and early September.
"To have this type of impact twice in one month — it's tough," said state Sen. Bill Dodd, who accompanied Newsom on Thursday. "Unfortunately, Napa is getting very good at dealing with emergencies."
Despite the red flag warnings for at least the next two days, winds on Thursday were some of the calmest they had been all week in Napa Valley. Poor visibility from the smoke meant that by late in the afternoon, helicopters no longer could be used to drop water on fast-growing blazes near the hamlet of Angwin and other areas.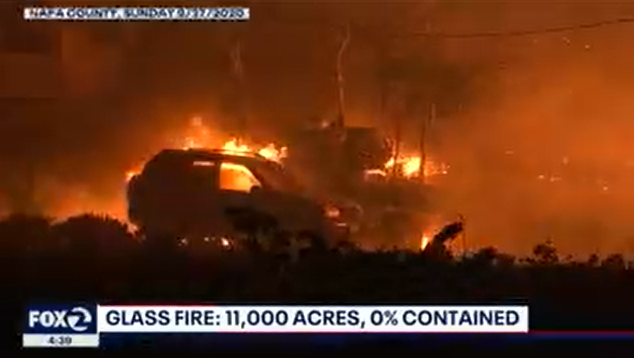 As the day wore on, several crews worked along Highway 29 between Calistoga and Middletown, where a blaze began in a valley on the east side of the highway. Flames snaked near the house as firefighters worked to save the structure.
A few small explosions could be heard from the fire, sending embers into the trees above.
Crews also worked on an active fire along Diamond Mountain Road, which winds through thick mottled brush. The active fire was near the front of the road, but both sides of the rural drive were still smoldering from a previous day's fire. Weakened trees and power lines draped themselves precariously over the road, while rocks slid from a nearby hill into the street.
The cause of the Glass Fire blaze was still under investigation, with Cal Fire officials and other agencies looking at an area on the 200 block of North Fork Crystal Springs Road, in St. Helena, including the Cakebread Winery.
"Cal Fire has informed us that it is looking at a number of properties along with ours and has yet to conclude its investigation," according to a statement from Katie Griesbeck, the winery's sales and marketing director.
Andrew Kennedy's home was among the 143 lost so far to the Glass Fire.
After calling Napa County home for all of his 30 years, Kennedy said the disaster will force him to move, either to San Diego or farther north in California.
It wasn't an easy decision to make, but the fire, which also burned down his son's elementary school, left him no choice.
"We can't all just sit here and hold ashes in our hands," he said.
Fire dangers weren's confined to Napa and Sonoma.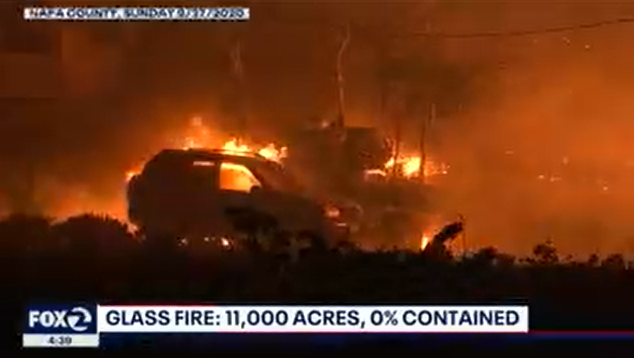 Across Northern California there are active warnings that winds from the northwest could start new fires. The areas covered include the East Bay hills and the Santa Cruz Mountains at least until Saturday morning.
In Oakland, fire officials added staffing to stations, especially in the hills, where companies will be on roving patrols through the red flag warning, said Michael Hunt, department spokesman.
The stations were on alert for specific threats to prevent a fire from breaking out, including residents using power tools, or people congregating in parks.
While most of the current firefighters were too young to have been on staff during the 1991 Oakland firestorm, they don't need to be reminded of the potential devastation, Hunt said.
"The firefighters who have less than 10 years experience have seen the entire state blow up in the last few years," he said. "They don't need to go back to 1991 to know what could happen."
So far, Oakland and much of the East Bay hills have been spared by this year's record wildfire season, which is a measure of luck and intentional work to maintain vegetation, including the use of goats year-round to clear grass, Hunt said.
But fireworks continue to be a significant issue, especially around the Steam Train in Tilden Park, he added. In addition, the city is seeing other kinds of reckless behavior like the large gathering a few weeks ago that included electrified speakers and instruments for a live concert on the hill, he said.
It's possible Grizzly Peak Boulevard could be closed for the rest of the fire season to anyone but locals. Currently, parking and stopping — even at turnouts — is prohibited between 9 a.m. and 6 p.m.
"To park and stop and even look at the view is too dangerous right now," he said, noting a spark from a car or hot undercarriage is like tossing a cigarette out the window.
Even without a local blaze, gusty winds are expected to whip through the hills and bring with them smoke from the Glass Fire and other Northern California blazes, leading to a smoky smell and unhealthy air quality throughout the Bay Area. The Bay Area Air Quality Management District has issued a Spare the Air alert through Tuesday.
Dry conditions continued to fuel wildfires elsewhere in Northern California, where the state's largest-ever blaze, the August Complex in Mendocino County, continued to grow, charring close to a million acres. As of Thursday evening, the blaze had torn through 956,084 acres and was 51% contained.
Firefighters were able to make substantial progress against the deadly Zogg Fire burning west of Redding, with containment growing by Thursday evening to 39%. The fire itself grew on Thursday to 55,803 acres, an increase of a little more than 500 acres from the day before, according to a Cal Fire report on Thursday evening.
Statewide, fires have consumed a record 3.9 million acres, nearly 4% of the state's land mass. So far, 30 people have died in the California wildfires and 7,200 structures have been destroyed.
The scene was also relatively calm Thursday on the west flank of the Glass Fire, where threats to Santa Rosa had been contained — in part by shifting winds.
Not soon enough for David Ruschke, though.
His home off Los Alamos Road in Santa Rosa, where he lived for 13 years, sat atop a promontory overlooking landscapes from Sonoma Mountain to Mount Diablo and San Pablo Bay.
On the clearest days, he could see the Pacific Ocean.
Ruschke, 57, had made an evacuation list after he saw the destruction of last month's Walbridge Fire, part of the LNU Lightning Complex, that burned through parts of Sonoma County.
But Ruschke couldn't find the list when the evacuation order came on Sunday, so he ended up taking random belongings with him, like his old musical recorder from elementary school. He did remember one of his most prized possessions: a tape he made of a voicemail his late sister had left him, singing "Happy Birthday to You."
Then he fled. It would be his last time in his three-bedroom house, which was torched along with his neighbors' homes. The Glass Fire burned so hot that it melted part of the rims on the cars, leaving shiny puddles of metal on the ground.
On Wednesday, he stood among the ruins.
"It's an unbelievable view," Ruschke said. "I used to hang out in the hot tub and just look at the stars with a glass of wine in my hand because it was so beautiful."