Cameron Peak fire flares up again in Colorado; Wild Horse fire crews on alert
15 Oct 2020
By: Jessica Snouwaert,

The Gazette (Colorado Springs, Colo.)


COLORADO SPRINGS, Colo. — Strong winds along the Front Range Wednesday sent a huge smoke plume from the Cameron Peak fire over northern Colorado as flames continued to spread eastward, forcing new evacuation orders by the Larimer County Sheriff's Office, including Lory State Park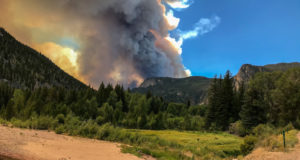 The high winds also had firefighters on alert for flareups of the Wild Horse fire on Fort Carson along Colorado 115, now estimated at 670 acres and 40% contained.
Fire crews spent Tuesday tamping down hot spots inside the fire's perimeter and will remain alert for new ones that might arise, said Fort Carson spokesman Eric Parris.
Fort Carson crews used bucket drops from UH-60 Black Hawk helicopters to assist the firefighters on the ground Tuesday. The helicopter crews will remain on standby to assist as needed, Parris said.
Colorado 115 is expected to stay open, although Parris said commuters can expect to see smoke along the highway for the next couple of days.
When the fire erupted, the response drew more than 100 firefighters from throughout the state to help the Army fight the fire.
"All firefighting assets external to Fort Carson have been released," Parris said, adding there is no danger to people or structures on the base.
West of Fort Collins, the Cameron Peak fire has grown to 135,556 acres, the third largest in state history, since it started Aug. 13 in the Arapaho and Roosevelt national forests.
"The fire is very active right now," said Jered Kramer, a sheriff's office spokesman. "We've had new mandatory evacuation orders, and several voluntary orders have been upgraded to mandatory."
With containment at 56%, it is likely only a matter of time until the Cameron Peak fire becomes the second-largest or even the largest fire ever in Colorado.
The 2002 Hayman fire west of Colorado Springs burned about 137,700 acres, while the largest, this year's Pine Gulch north of Grand Junction, burned just over 139,000 acres. Prolonged drought, coupled with a dry, hot and windy August, has shown the effects climate change has had on wildfires in the West this year, with massive blazes also burning in California and Oregon.
The Cameron Peak fire's flareup brought new mandatory and voluntary evacuation orders for rural communities in the path of the flames.
Lory State Park is under voluntary evacuation orders from Cameron Peak fire officials, but Colorado Parks and Wildlife evacuated the park to protect visitors and staff. The fire is not burning on park grounds, but equipment and valuable property from the state park will be moved offsite.