At least 13 injured in boat fire on the New River in Fort Lauderdale
16 Oct 2020
By Brooke Baitinger and David Lyons
Sun Sentinel
FORT LAUDERDALE, Fla. _

Nearly two dozen people were aboard a boat that caught fire on the New River in Fort Lauderdale Thursday, and at least 13 have burn injuries of varying degrees, authorities said.
The blaze broke out just before 2 p.m. on a 41-foot Wellcraft pleasure boat that was cruising the New River toward the Intracoastal Waterway
A blast rang out over the narrow waterway, and the next thing nearby boaters knew the boat was floating down the river, engulfed in flames.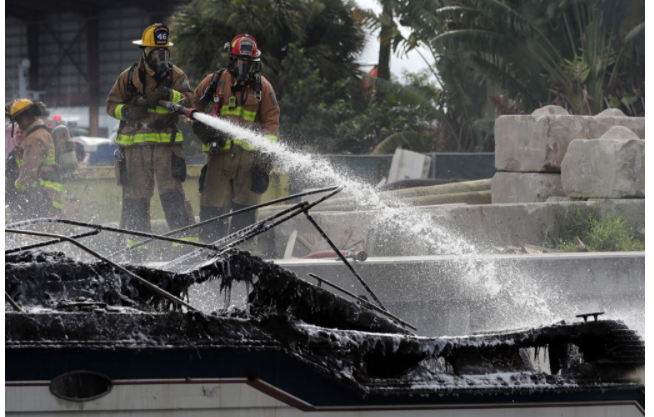 Multiple boaters called 911 to report the explosion as people fell or jumped into the water to escape the inferno
When fire crews arrived, nearby boaters were already plucking people out of the water and off the boat, said Fort Lauderdale Fire Rescue Battalion Chief Stephen Gollan. There were 21 people on the boat at the time of the incident.
A total of seven people were taken to Broward Health Medical Center, where they were treated for minor burns, cuts and bruises, said trauma surgeon Jose Lozada.
Two people were severely burned, and one of them went to Jackson Memorial Burn Unit in Miami. That person was in critical condition with third-degree burns, and the first 24 hours of care is crucial for burn victims, Lozada said.
Working on a yacht nearby, Bret King and his crewmates heard the explosion and saw smoke spewing from the boat's cockpit. They rescued four people from the burning Wellcraft and pushed it into a canal on the north bank of the river, near the Lauderdale Marine Center, a yacht repair facility east of Interstate 95, on the river's south fork of the river.
Fire rescue boats put out the fire by about 3:30 p.m. Authorities are investigating what caused the fire, Gollan said.
They don't know what all those people were doing crowded on the boat together, Gollan said. There was a large initial explosion, followed by a smaller explosion and then the boat went up in flames, he said.
Authorities did not identify the boaters. Those who were not seriously injured were treated onshore and declined medical transport to the hospital. It's still unclear who owns the boat and whether they were on board Thursday.
The vessel was burnt to a crisp by the time firefighters put out the flames