Six-alarm fire in Berkeley burns seven-story building under construction
23 Nov 2020
Rick Hurd and George Kelly,
East Bay Times
Nov. 22—BERKELEY — A six-alarm fire burned a seven-story building under construction Saturday in downtown Berkeley, authorities said.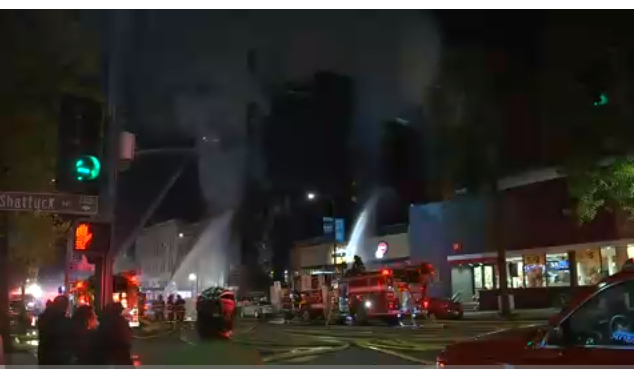 Fire crews arrived to the 2000 block of University Avenue just west of Shattuck Avenue at 5:45 p.m., about 6 minutes after the first call regarding the blaze, Berkeley Fire spokesman Assistant Fire Chief Keith May said.
The housing project at 2067 University Avenue is a seven-story mixed-use building with 38 one-bedroom and 12 two-bedroom apartments and 1,500 square feet of commercial space on the ground floor. It was approved in 2016. A city transportation department page described the development as part of a mix of private and public construction projects over the last two years worth about $250 million investment in the city's downtown.
An unknown number of residents at separate nearby apartment complexes were evacuated, but there were no reports of injuries, May said.
Police closed University Avenue in the downtown area as they fought the blaze. Crews from the Berkeley Fire Department were there, along with help from Oakland, Albany, Piedmont and city of Alameda fire crews, and the Alameda County Fire Department.
Firefighters still were working the fire well into Sunday, remaining on fire watch at the site into the early morning hours. Some fire units who had just left the scene around 4:40 a.m. had to respond to an unrelated two-alarm fire at Ninth and Delaware streets.
That fire, which apparently began in a parked recreational vehicle, spread to two homes and displaced six residents, authorities said. Although there were no injuries reported, it served as a grim coda to a house fire Wednesday in the 1700 block of Eighth Street where firefighters found the body of an elderly man inside. Both fires' causes are still under investigation.
Saturday night's fire was perhaps the city's largest since a four-story, 39-apartment building caught fire almost exactly nine years ago. The Nov. 18, 2011 five-alarm blaze destroyed a building at the intersection of Telegraph Avenue and Haste Street, three blocks south of the UC Berkeley campus.
Another prominent fire, a three-alarm blaze Oct. 2, 2016 at a First Congregational Church of Berkeley building near the corner of Dana and Channing Streets, caused an estimated $2 million in damage.