Fire heavily damages Grist Mill restaurant in Warrensburg
30 Nov 2020
Michael Goot
The Post-Star, Glens Falls, N.Y.
Nov. 29—WARRENSBURG — Fire ripped through the historic Grist Mill restaurant in Warrensburg early Sunday morning.
Most of the building, constructed in 1824, was damaged and will have to be razed, according to owner Ash Anand.
"It's a really sad moment," he said at the scene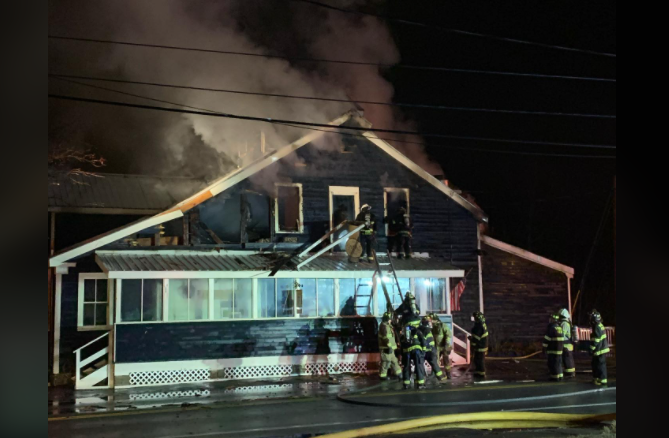 The Warrensburg Fire Department received the report of a fire at the 100 River St. building at about 2:15 a.m. Sunday.
Warren County Deputy Fire Coordinator Scott Combs said about 50 to 60 firefighters from the Warrensburg, Bolton and Chestertown departments responded to the scene. Horicon provided station coverage
Combs said the fire was brought under control in about two hours.
"These guys did a phenomenal job of stopping this fire," he said.
The two-story wood-framed building is heavily damaged. Firefighters remained on scene until about 10:30 a.m. Sunday cleaning up.
No one was injured, according to Combs.
The cause is unknown is at this point. Combs said the Warren County Cause and Origin Team has begun its investigation.
Anand, of the Lotus Group of Companies, and his wife, Jaime, purchased the restaurant in August 2015 from the Lambeth family.
The couple bought two other buildings on River Street as part of an effort to revitalize the area.
The building was built on the foundation of a previous grist mill constructed in 1806. The mill went out of business in the 1960s and was turned into a restaurant in 1976 by Nancy Fitler, according to Post-Star archives.
Anand was attracted to the historic nature of the building.
The business employs 28 people. He vowed on Sunday to rebuild.
"We will start fresh and restore history as much as we can because that's what we like to do," he said.