Huge fire breaks out across Dartmoor near Tavistock
11 Feb 2021
BBC News:



A huge fire has broken out across an area of moorland in Dartmoor, Devon.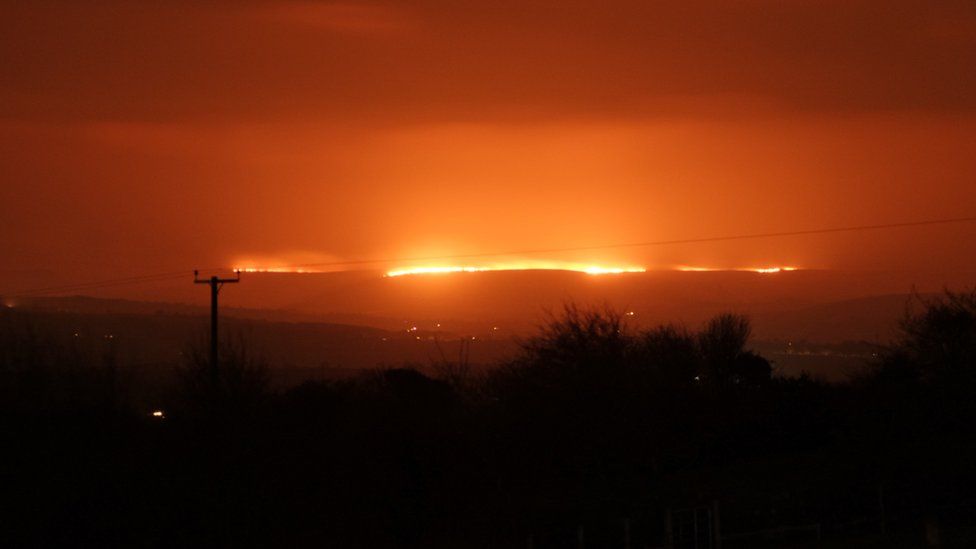 Rob Steemson, Dartmoor National Park emergency officer, estimated the blaze to be about 5km (3.1 miles) wide and continuing to spread.
He said the fire, which could be seen about 20 miles away in Plymouth, was being stoked by fierce south-westerly winds.
The blaze is on remote moorland near Tavistock and no residents or animals are thought to have been injured.
Mr Steemson said a "watching brief" was ongoing overnight "because although it is affecting the moorland, it's not affecting any property or walkers or people out there".

He said he believed firefighters were not directly trying to put out the blaze because of the strength of the winds.
"All being well it will peter out when it goes out of the wind and into the river valleys," the emergency officer said.
Ten fire service vehicles are dealing with the fire at Tavy Cleave, a Devon and Somerset Fire spokesman said, adding that members of the public should avoid the area.

The area on fire was "general moorland", Mr Steemson said, made up of heather, gorse and bracken.
He said many Dartmoor residents were trained in dealing with fires of this nature, but had not yet been asked to go out.
Colin Sargent saw the blaze from his house at Brentor on the western edge of Dartmoor.
"It was a long line of flames and the sky was just getting redder and redder," he said.
"It was just a red glow in the sky like a sunset or sunrise.

This fire is the latest in a spate of winter blazes, including at a nature reserve in Cornwall and a number of them in Scotland's Western Isles, all on Wednesday.
Area commander Bruce Farquharson, from the Scottish Fire and Rescue Service, said winter fires were not uncommon due to extreme cold "curing" or drying out vegetation, and happened in Antarctica, Norway and. Scandinavia.
He told BBC Radio 4's PM programme: "It is counter intuitive for almost everybody but the risk is there, the vegetation is tinder dry and it just takes the slightest spark to ignite the fire and it will burn very quickly and spread very quickly."
BBC weatherman David Braine said the air temperature at Okehampton on the northern edge of Dartmoor was 0C at 22:30, with wind chill making it feel like -8C.