People waited to call 911, allowed fire to grow to 8-alarm
10 Apr 2021
Thomas Tracy


New York Daily News

The raging fire that tore through a Queens apartment building and left 240 people homeless was made worse by a "delayed notification" to 911, FDNY Fire Commissioner Daniel Nigro said Wednesday.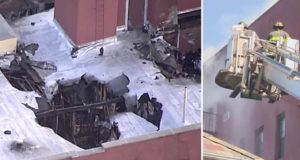 The tenant who lives in the Jackson Heights apartment where the fire ignited also didn't close the door when he escaped his burning home, causing the massive 8-alarm blaze to quickly spread, Nigro said.
"You have to leave, close that door and contain the fire," Nigro explained outside the burned-out building. "Our first units were met in the hall with heavy fire and unable to rush their lines. Three of our members were burned trying."
The fire erupted in the 34th Ave. building near 89th St. about 1 p.m. Tuesday, officials said.
"People smelled smoke, but they notified someone else," Nigro said. "Several fire alarms went off as well, but still people waited about 10 minutes to call 911.
"In the world of firefighting that is an eternity," Nigro said. "What played a role in this fire was delayed notification."
Once the fire got into the cockloft "it became uncontrollable," Nigro said.
Ninety families who live in the building were left homeless, authorities said. The Red Cross found hotel rooms for approximately 80 families Tuesday night. The rest were able to stay with relatives, an agency spokesman said.
The fire was extinguished shortly after 12 a.m. — nearly 12 hours after the fire broke out, the FDNY said. The building is so badly damaged that Fire Marshals have been unable to get into the top floor apartment to find out what sparked the blaze.
Six residents and 19 firefighters suffered minor injuries, but the damage could have been much worse, Nigro explained.
Three years ago, 13 people were killed in a Bronx fire where the door to the burning apartment was left open, he recaled.
"This fire was on a top floor," Nigro said of Tuesday's inferno. "In that fire that killed 13 people, the fire was on the first floor.
"If this fire had been lower in the building there would have been a terrible result and a loss of life," he said.