South Florida plane crash on neighborhood street caught by ring doorbell
16 Mar 2021


Mar. 15—A single-engine plane with two people inside crashed nose-first into an SUV carrying an adult and child in Pembroke Pines Monday afternoon, before skidding on the street and bursting into flames, video shows.
The fiery wreck left the pilot and passenger dead and the adult and child in the SUV seriously injured, according to Pembroke Pines Fire Rescue.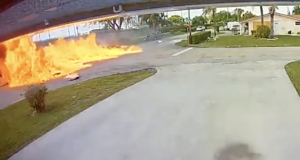 It was not immediately clear what caused the Beechcraft Bonanza to go down shortly after taking off Monday around 3 p.m. from North Perry Airport. Pembroke Pines Fire Chief Marcel Rodriguez told the Sun Sentinel that a mechanical problem may have caused the plane to clip a power line.
The graphic video captured on the Ring camera of Anabel Fernandez, who lives nearby, showed the crash near the 1300 block of Southwest 72nd Avenue.
"We went out and saw the fire; everything was on fire outside," Fernandez said. "It was like a bomb."
Smoke billowed from the plane as parts scattered across the street and the fire spread.
Pines Fire Rescue said the plane hit an SUV heading north on Southwest 72nd Avenue with an adult and child inside. They were taken to Hollywood's Memorial Regional Hospital in serious condition. Fernandez said the woman in the car was able to get out, but was screaming "my baby."
The two inside the plane were killed. No identities had been released by Monday evening.
Video from WSVN-Channel 7's helicopter showed fire trucks lined up in the 1200 and 1300 blocks of Southwest 72nd Avenue, which runs next to the airport, trying to douse the flames of the burning aircraft.
Southwest 72nd Avenue was closed from 11th Street to Pembroke Road for hours. Southwest 72nd Avenue, between Southwest 11th and 15th streets, will be closed overnight due to an investigation by the National Transportation Safety Board, Pembroke Pines police said.
@NTSB
The FAA and the NTSB are trying to figure out what led to the crash.
In recent months, there have been incidents involving North Perry Airport. On Dec. 17, one person was hurt when a plane crashed after takeoff. On Dec. 2, a small plane crashed onto its roof, but no one was injured. And on Nov. 23, the pilot of a small plane was killed after reporting engine failure.
Meanwhile, Fernandez said she was afraid something like this would happen.
"We see these airplanes flying low all the time and we are always concerned about it," she said.