Two FDNY firefighters seriously injured when barbershop roof collapses on them during 4-alarm blaze
03 Apr 2021
Thomas Tracy
New York Daily News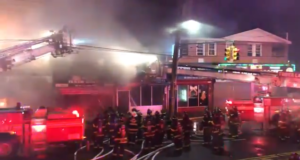 Two city firefighters became trapped inside a burning Queens shop as a massive fire tore through a row of storefronts early Saturday, leaving one of them with severe burns, officials said.

The FDNY firefighters were inside the back of a barbershop on Springfield Blvd. near 112th Ave. in Queens Village around 2:15 a.m. when the burning ceiling gave way, said FDNY Assistant Chief of Department Joseph Jardin.
"A portion of the roof collapsed trapping two of our members initially," Jardin said at the scene. "There was a mayday transmission that occurred alerting our members on the scene that we did have a member or members in distress.
"They discovered the member under a 20 foot by 20 foot section of wood joisted roof, a heavy section of roof with fire in proximity where the member was trapped," Jardin said. "The units went to work and in rapid fashion were able to extricate the member and remove that member along with a second member."
One of the trapped firefighters was rushed to New York-Presbyterian/Weill Cornell Medical Center with severe burns, Jardin said. The other rescued firefighter was taken to North Shore University Hospital with serious injuries. A third firefighter battling the blaze also sustained minor injuries.
More than 200 firefighters and EMS members were called to contain the blaze, which started in the barbershop and spread between the ceiling and the roof into two adjoining stores, including a Caribbean Buffet and a Dominican hair salon, officials said.
"Our units began operations that included making access to each of the occupancies via the roll down metal security gate," Jardin said. "Once they got those gates up they discovered a heavy volume of fire in that middle occupancy.
"They had a heavy volume of fire through a considerable portion of the building," he said.
Firefighters had doused the blaze by 5:30 a.m. No other injuries were reported.
The cause of the fire was under investigation Saturday.