Metropole fire.. Safety measures stopped hotel blaze spreading
17 Apr 2021
BBC News: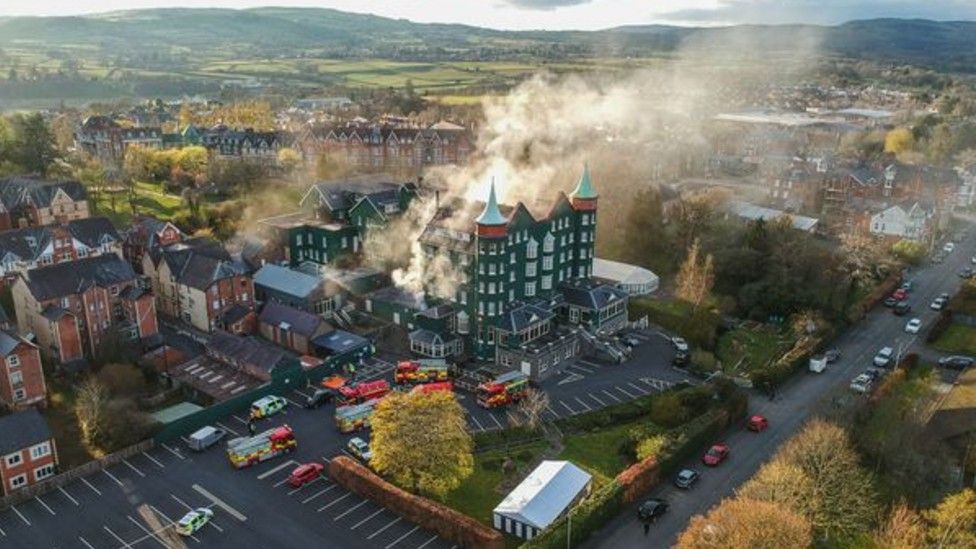 A "significant" fire at a major mid Wales hotel was accidental, say firefighters investigating the cause.
A blaze began in a basement area of the Metropole Hotel and Spa in Llandrindod Wells, Powys, on Tuesday.
Mid and West Wales Fire and Rescue said its spread was contained with the help of fire systems at the hotel.
Due to Covid restrictions, the six-storey hotel complex in the town was unoccupied at the time.
"Effective fire safety measures at the Metropole Hotel have undoubtedly contributed to preventing escalation of this incident," said Siôn Slaymaker, head of business fire safety at the fire service.
He said without the measures in place, the fire could have had a "catastrophic impact on the fabric of the building"
Hotel fire detection systems also meant fire crews were able to deal with the unfolding incident "at the earliest opportunity".
The fire service said it showed that now was an ideal time for businesses to review their fire risk assessments as Wales emerged from Covid restrictions, to ensure the year of lockdowns had not affected fire safety management.