Large Iranian navy ship sinks in Gulf after blaze
02 Jun 2021
BBC News: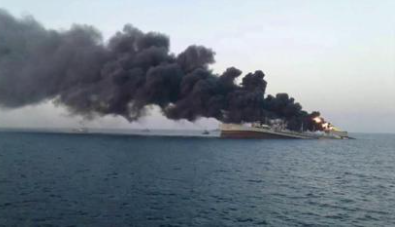 A large Iranian navy ship has sunk after catching fire in the Gulf of Oman during a training mission, state news agencies say.
The oiler replenishment ship IRIS Kharg caught fire near the Iranian port of Jask in the early hours of Wednesday.
An Iranian navy statement said firefighters had fought the blaze for more than 20 hours in an effort to save the vessel before it went down.
The ship's crew were safely evacuated and no casualties were reported.
The cause of the fire was not immediately clear. In its statement, Iran's navy said the fire started in one of the ship's systems, without giving further details.
The statement reported by Tasnim News Agency said the vessel had left for a "training mission" in international waters days ago. Iranian state TV ran footage of the ship ablaze.
Built in the UK and launched in 1977, Kharg is Iran's largest naval vessel in terms of tonnage, according to naval analysts.
The official Irna news agency said the vessel had provided support to the Iranian navy's training operations for more than four decades.
The Kharg fire is the latest naval incident in waters near Iran, a region of sensitive shipping routes and simmering geopolitical tensions.
The Gulf of Oman connects to the Strait of Hormuz, a narrow channel that is one of the world's most important shipping lanes.
It has been at the centre of rising animosity between Iran and Western countries - including the US and the UK - in recent years.
In recent months Iran and Israel have accused each other of targeting their vessels at sea.
In April, Iran said one of its vessels, the Saviz, had been targeted in the Red Sea, after media reports said the ship had been attacked with limpet mines.
That came after Israel and Iran had blamed each other for a series of reported attacks on cargo ships since late February.