(CNN)Nine national forests in California are closed Monday as firefighters struggle to contain 11 large wildfires burning in the state.
The US Forest Service Pacific Southwest Region issued an emergency forest service closure through at least September 6, citing "extreme fire conditions throughout northern California, and strained firefighting resources throughout the country."
Firefighters battle flames during the Caldor Fire in Kyburz, California, on August 21.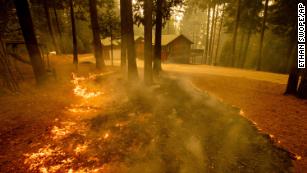 "These temporary closures are necessary to ensure public and firefighter safety, as well as reduce the potential for new fire starts," Regional Forester Jennifer Eberlien said.
The closures include Tahoe National Forest, Lake Tahoe Basin Management Unit, Plumas National Forest, Lassen National Forest, Mendocino National Forest, Klamath National Forest, Six Rivers National Forest, Shasta-Trinity National Forest and Modoc National Forest.
The forest service said anyone violating the order could face fines up to $5,000 for an individual and $10,000 for an organization, as well as up to six months in jail.
Additionally, the Eldorado National Forest, also in California, was closed on August 17 due to the Caldor Fire. That closure will last through at least September 30, the forest service said.
So far this year, more than 41,000 fires have scorched 4,586,155 acres, NIFC data showed. That's more than a million acres higher than the nearly 3,300,00 acres burned by this time last year.
Some very minor relief is in the forecast as an onshore flow into the Northwest has helped calm fire conditions and clear lingering smoke, CNN meteorologist Michael Guy said. Winds along the frontal boundary of a cold front moving into the area could push some big fires into new acreage, but the next week will see cooler temperatures and higher humidity, which should increase containment, Guy said.
While there's no significant rain to speak of, the drought monitor in the West shows "miniscule" signs of improvement," Guy said. "A little is better than none or worse. So the little bit of rain that was received did put a hair scratch (not a dent) in the West's drought."
Caldor Fire burns more than 100,000 acres
The fast-moving Caldor Fire in Northern California swelled to 104,309 acres Sunday, up from 90,107 reported Saturday evening, Cal Fire said.
The fire crossed the 100,000-acre mark just days after it sparked on August 14. The flames burning in El Dorado County are 5% contained.
The fire had destroyed 475 structures as of Sunday night and threatened another 17,488, Cal Fire said. More than 1,600 firefighting personnel are assigned to battle the flames.
Parts of El Dorado County are under evacuation orders or warnings. An evacuation warning is also in place in parts of neighboring Amador County.
"This year what we're seeing more than ever is a set of fuel conditions that many of our professionals that have spent their whole careers fighting fire have never seen before," El Dorado National Forest Supervisor Jeff Marsolais said in a community briefing Saturday evening.
"The system is as taxed as it has ever been," he said of firefighting resources. "And our folks on the ground are doing everything they can within their power."
Dixie Fire delivers 'never before seen' conditions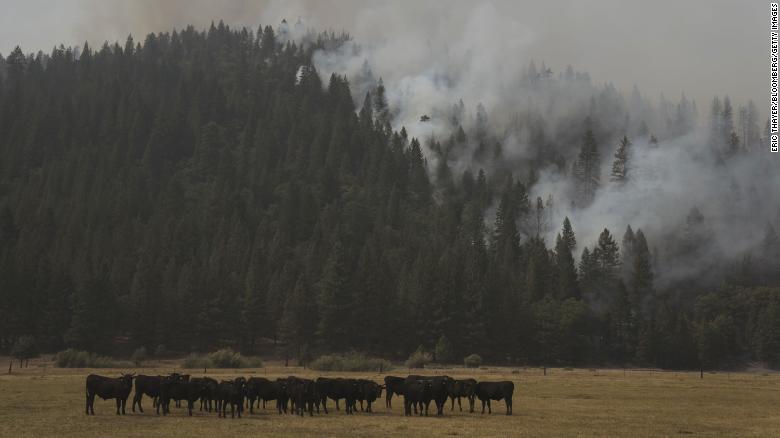 Cows graze in front of a burning hillside during the Dixie Fire in Genesee, California, on August 21.
Farther to the north in California, the nation's largest active fire, the Dixie Fire, expanded to 724,110 acres Sunday, Cal Fire reported.
The flames have destroyed more than 1,200 structures -- residential, commercial and otherwise -- and threaten another 12,000.
Evacuation warnings are in place in portions of Plumas, Butte and Lassen counties, according to Cal Fire.
"Fires burning in northern California are exhibiting extreme fire growth based on critical fuel conditions," Cal Fire said in a Sunday evening update on the Dixie Fire.
"Under these drought conditions, wildfires are burning rapidly with extreme severity and have traveled up to 8 miles in a single day," the update said. "Firefighters are experiencing conditions never seen before, such as increased spread rates, spotting and active nighttime burning."
CNN's Dakin Andone, Michael Guy and Kay Jones contributed to this report.