Ammo stored in toaster oven ignites fire at assisted living site
29 Nov 2021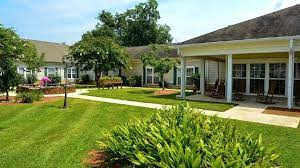 A fire in an assisted living community in Greenwood, South Carolina, was caused by ammunition placed in a toaster oven. (STREET VIEW IMAGE FROM APRIL 2019. © 2021 GOOGLE)
A bizarre instance of a toaster oven loaded with bullets is cited as the cause of gunshots heard at a South Carolina assisted living community, police say.
No one was struck by gunfire. However, the ammunition ignited a fire, resulting in one person being hospitalized for smoke inhalation, the Greenwood Police Department said in a news release.
It happened shortly before 9 p.m. Sunday, Nov. 28, at Morningside of Greenwood, an assisted living facility on Enterprise Court in Greenwood. That's about 80 miles northwest of uptown Columbia.
In addition to a fire alarm, officers were told residents heard "possible gunshots."
"Officers found a small fire inside one resident's room; the resident was found unconscious and taken to the hospital," police said.
"At this time, it appears the fire was started because the resident placed several rounds of ammunition into a toaster oven causing the ammunition to discharge and making employees believe that a shooter was on the property."
The fire was contained to the resident's room and "was quickly extinguished," officials said.
"No other injuries were reported and all residents were safely accounted for by the staff."
Investigators did not identify the resident and did not say why the ammunition was placed in the toaster oven.
©2021 The Charlotte Observer. Visit charlotteobserver.com. Distributed by Tribune Content Agency, LLC.