4 people taken to hospital, 28 injured after fire breaks out at Baltimore detention center
03 Jan 2022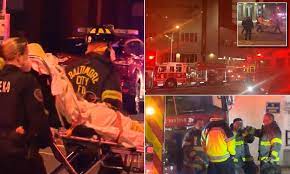 State and city fire crews responded Sunday night to a fire at the Baltimore detention center at the 500 block of E. Madison St., according to state and city fire officials.
Baltimore City Fire Department spokeswoman Blair Adams said the agency responded just before 8 p.m. to a fire at the detention center, where they spotted a fire from the fifth floor. Crews quickly extinguished the flames, Adams said. The fire resulted in 28 non-life-threatening injuries and four that required hospital treatment.
The Maryland State Fire Marshal said in a tweet that the department would investigate the cause and origin of the fire, which started inside the building.
Tweets posted by Baltimore Firefighters Union IAFF Local 734 said the event started as a mattress fire, forcing the evacuation of as many as 30 inmates due to smoke inhalation and poor ventilation inside the building. Crews from Howard and Anne Arundel counties and the state's emergency management department joined the response effort, according to the union.
The state fire marshal said the investigation was still "active."
This article will be updated.

©2022 Baltimore Sun. Visit baltimoresun.com. Distributed by Tribune Content Agency, LLC.