Fire kills 19 including 9 children in NYC's deadliest fire in decades
10 Jan 2022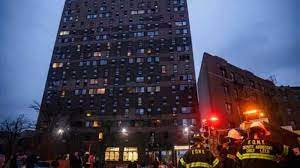 Emma Seiwell, Haley Brown, Thomas Tracy and John Annese
NEW YORK — The deadliest New York City fire in decades killed at least 19 people in a Bronx building Sunday, including nine children, authorities said.
The five-alarm blaze broke out about 10:54 a.m. in a duplex apartment spanning the second and third floors of a 19-story building in Fordham Heights.
The blaze was sparked by a space heater, officials said. Though officials said the heat in the building was functioning properly, the Bronx saw frigid temperatures dip into the high 20s early Sunday morning.
"This is a horrific, horrific, painful moment for the city of New York and the impact of this fire is going to really bring a level of just pain and despair in our city. … This is going to be one of the worst fires we have witnessed during modern times in the city of New York," Mayor Eric Adams said at the scene.
Firefighters arrived within three minutes, their ranks soon swelling to 200 to battle the blaze at 333 E. 181st St. near Tiebout Avenue, FDNY officials said. It was brought under control at 1:26 p.m.
"They were met in the hallway with this fire," FDNY Commissioner Daniel Nigro said at the scene. "Very heavy smoke, very heavy fire.
"This smoke extended the entire height of the building — completely unusual," Nigro added. "Members found victims on every floor, in stairwells, and were taking them out in cardiac and respiratory arrest. It didn't have to be that bad, Nigro said.
"We've stressed this over and over: The door to that apartment was left open, causing the fire to spread and the smoke to spread," he said.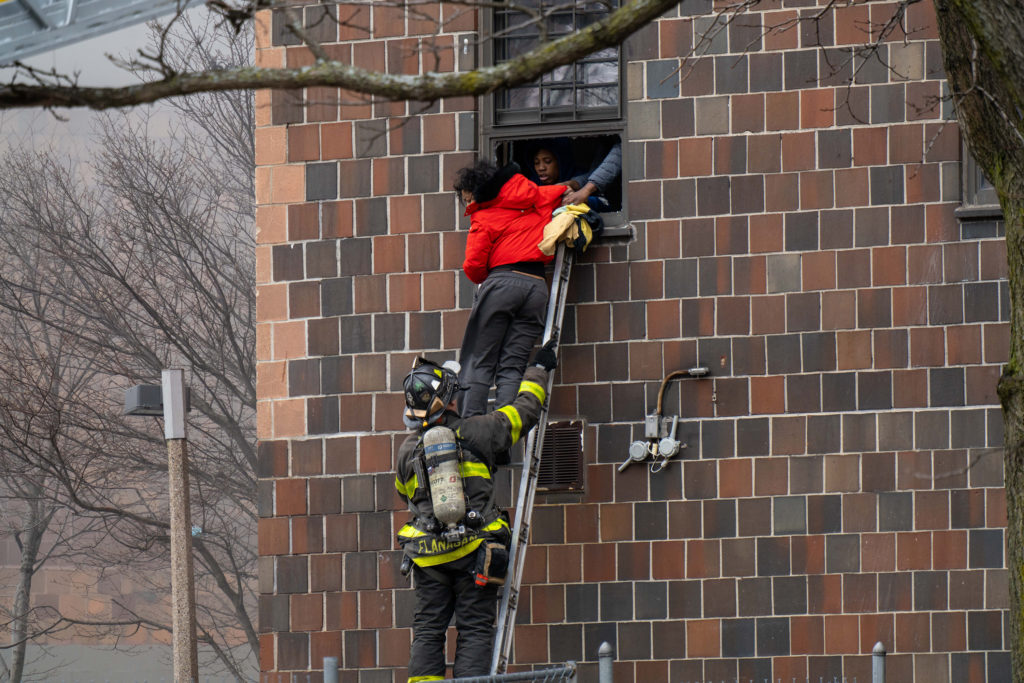 Firefighters hoisted a ladder to rescue people through their windows after a fire broke out inside a third-floor duplex apartment at 333 E. 181st St. in the Bronx Sunday. (Theodore Parisienne/New York Daily News/TNS)

"There were certainly people trapped in their apartments all through this building, which is why our members did an unbelievable job of getting through every floor of this building and getting to these folks," Nigro added added. "But some of them were already in arrest when we reached them."
Medics rushed 32 people with life-threatening injuries and three with serious injuries to five local hospitals, officials said. Nineteen people had minor injuries and were treated at the scene. All of the victims suffered severe smoke inhalation, Nigro said.
After Sunday's blaze broke out, Anthony Romero, 40, a resident of the 12th floor, woke up his pregnant wife and two children.
"I walked to my door and opened it. A huge cloud of black smoke came in so I closed the door," Romero said. "We put a wet towel under the door. I went to the back window and I checked and that's when I saw the smoke coming out the third floor apartment."
Romero, who's asthmatic, remained in his apartment until firefighters banged on the door, signaling it was safe for the family to evacuate.
"I had no choice, there was too much smoke in the hallways, there was no way I was gonna leave my apartment and make it from the twelfth floor to the first floor and live. So just the smoke hitting me alone. … I'm spitting out black, but I'm good."
Romero recounted his neighbor's grief as she was forced to leave her dog to die. He saw firefighters on each floor as his family made their way through thick smoke to the ground floor.
"It was black everywhere," he said of the overwhelming smoke. "Black everywhere."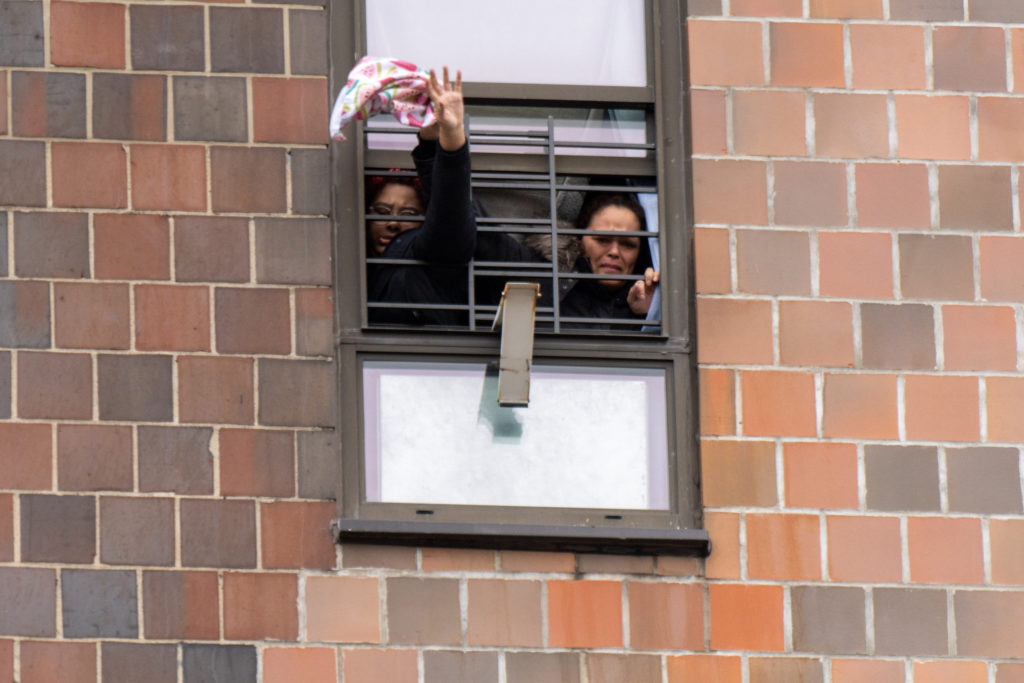 Firefighters hoisted a ladder to rescue people through their windows after a fire broke out inside a third-floor duplex apartment at 333 E. 181st St. in the Bronx Sunday. (Theodore Parisienne/New York Daily News/TNS)
Tysena Jacobs, a 15th-floor resident, was trapped in her apartment with two siblings.
"We couldn't get out," Jacobs, 69, said. "I called 911 three times they tell us to put towels at the door but I couldn't get to the door. It was too black. It was black, you couldn't see nothing. So I had to put down a lot of towels at my bedroom door."
Jacobs' brother pushed an air conditioner out of a bedroom window in an attempt to get oxygen flowing through the apartment before firefighters searching for trapped residents found the siblings.
"I was praying to ask God to help us and get us out of this building safely," Jacobs said. "I live here over 30 years. They have fires but nothing like this. This is the first time anything like ever happened."
Hours after the fire was put out, Ousman Tunkara, 28, stared up at the building's 19th floor where his 3-year-old niece lived. He learned from a family member the toddler did not survive the blaze.
"She was a baby," Tunkara said. "I'm sad. … I'm sad."
Tunkara was still trying to get in touch with his sister and brother-in-law Sunday evening.
More than 40 people were rescued from the burning building, FDNY sources said.
The building includes multiple units converted into duplexes and has spaces hard to reach for firefighters. It was built in 1972, city records show.
"It was at a building that was built under federal guidelines way back when so it's not up to New York City fire codes," said Andrew Ansbro, president of the the FDNY Uniformed Firefighters Association union.
He said the building design, particularly the "scissor stairs" where two stairways crisscross each other in the same stairwell, made it take longer to stretch hose through the building.
Public records show the building has multiple open violations for mouse and roach infestations, peeling lead paint and water leaks. One open complaint with city Housing Preservation and Development makes reference to defective fire retardant material in a first-floor ceiling.
The building owner, Bronx Park Phase III Preservation LLC, told ABC News they are cooperating with the FDNY and other city agencies in the wake of the blaze.
"We are devastated by the unimaginable loss of life caused by this profound tragedy," the company told the news outlet.
"I am horrified by the devastating fire in the Bronx today," Gov. Kathy Hochul said in a statement. "The entire State of New York stands with New York City."
At a news conference Sunday night, Hochul said she will establish a victims' compensation fund as she prepares the state's budget and the American Red Cross will be housing displaced residents in hotels.
©2022 New York Daily News. Visit nydailynews.com. Distributed by Tribune Content Agency, LLC.