Grain elevator blaze leaves one firefighter injured
07 Feb 2022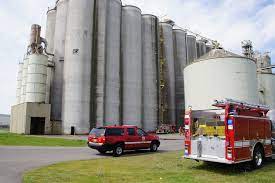 Eastern New Mexico News, Clovis, N.M.
CLOVIS — One Clovis firefighter suffered an arm fracture Wednesday morning while fighting a fire that started Tuesday afternoon at the Gavilon grain elevator on U.S. 60-84 west of the city. Battalion Chief Chet Chenault said the fire was contained about 11 a.m. Wednesday.
The injured firefighter was hospitalized but was released from the hospital by Friday, Clovis Fire Chief Mike Nolen said.
Chenault said the firefighter was hurt when his arm was pinned between a hose and railing.
The firefighter, whose name was not released, was the only one hurt as a result of the fire, Chenault said.
Nolen said firefighters first responded to the elevator Tuesday afternoon after a Gavilon employee heard an explosion and called for help. As firefighters struggled to deliver water to the fire within the ductwork 110 feet off the ground, Nolen said, they heard several other minor explosions.
Chenault said a combination of welding work and grain powder accumulation in the ductwork likely led to the explosion and fire.
About 5:30 p.m. Tuesday, Clovis Deputy Fire Chief Fay Craigmile said firefighters managed to get water up to the height of the blaze inside the ductwork and were able to spray the ductwork from two directions too cool it.
Firefighters remained on scene Tuesday night and Wednesday morning in case flareups occurred. Chenault said they spotted smoke in the ductwork Wednesday morning; the firefighter was hurt as crews began spraying the hot spot.
Water tankers from participating fire departments and trucking companies shuttled in and out of the scene Tuesday to assure the spray could keep going, Nolen said. The Clovis Fire Department received assistance from Texico, Melrose, Ranchvale, Cannon Air Force Base, Farwell and Portales crews.
In addition, Nolen said Clovis police brought a command-center vehicle to the scene, which allowed fire, police, Curry County sheriff's deputies, emergency management and Gavilon employees familiar with the grain elevator to communicate.
The multi-agency approach "worked very well," Nolen said.
Curry County Sheriff's deputies on Tuesday rerouted traffic off of U.S. 60-84 both east and west of the fire scene on Clovis' west side.
___
(c)2022 Eastern New Mexico News, Clovis, N.M.